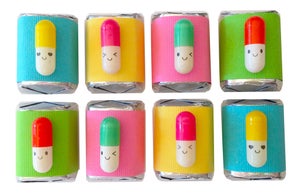 $

10.00
These happy pill nuggets are sure to brighten someone's day!
Yellow, pink, green and red pills adorn coordinating textured paper,
wrapped around a milk chocolate nugget, YUM!
They arrive in a matte plastic box with a clear plastic lid.
The pills are not edible, unless you like plastic, if so, please feel free to eat them.
Don't worry, be happy.